ចុចត្រង់នេះដើម្បីអានអត្ថបទជាភាសាខ្មែរ។
Leaving a gift in your will by adding a charity of your choice is an impactful and everlasting way of helping the less fortunate ones who have no one else.
At Animal Rescue Cambodia, we are fortunate to have more than 1,200 loyal and dedicated patrons around the world who donate regularly to help suffering cats and dogs in Cambodia.
One of them is Lisa from Germany. Lisa recently retired, and the Covid-pandemic has given her the spare time to put her affairs in order. This included updating her will, and Lisa has decided to add an animal charity to her will.
When she messaged our team, we were thrilled to hear that she has chosen Animal Rescue Cambodia and were curious to find out more about her motivation. Lisa also agreed to share her experience in our ARC Blog to start a conversation about legacy giving.
Please tell us a little bit about yourself.
I'm Lisa, 65 years old, from Germany, and I recently retired from my office management job. Ever since I was a little girl, I loved nature, plants, and all animals. In fact, I wanted to become a veterinarian, but couldn't afford to study at the time. I was married for a long time, but we couldn't have children. Instead, we adopted several stray dogs and cats over the years. They have been my emotional support since my husband passed away unexpectedly a few years ago.
How did you hear of Animal Rescue Cambodia?
When my husband was still alive, we traveled around the world. Our particular interest was UNESCO World Heritage sites, and one of our favorites is Angkor Wat in Siem Reap. That's how we got to know Cambodia. While traveling the country, our hearts broke for all the homeless cats and dogs who were suffering without anyone to look after them properly.
In Phnom Penh, we discovered Animal Rescue Cambodia as one of the very few organizations that address this issue with a sustainable long-term approach and vision. We immediately set up a monthly donation and were pleasantly surprised by the monthly updates on how our gifts directly helped animals in need.
What made you add an animal charity to your will?
Well, after my busy work had finished, I retired. At first, I kept myself busy, but during the Covid-pandemic I had some extra time. I am still healthy and feel good.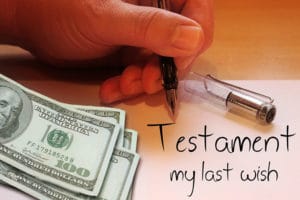 At first, that made me feel a bit uneasy. But I thought about it, and I remembered the challenges I had when my husband passed away. Of course, I was sad, and he didn't have a will, so I wasn't entirely sure what he wanted as he didn't like to talk about what should happen once he was not around anymore.
So, I started educating myself. I checked online and found good information about the legality in Germany. I also read about leaving a gift in will on ARC's website. I spoke to my close friends about legacy giving and decided for myself how I would like to distribute my estate after I'm gone. Just to be sure, I consulted with a local estate advisor who helped me to put everything into writing and legally binding. To be honest, it was much easier than I initially thought.
In my case, I've decided to leave part of my estate to close friends and family who have always been by my side through thick and thin, and part of my estate to Animal Rescue Cambodia. When I told ARC about it, I was moved by their emotional reaction, and I knew it was the right thing to do.
I am really thankful, I've had a good life, and many opportunities. Despite the setbacks that everyone goes through, I was really lucky in my life. I am so happy to know that ARC will put my gift in will to good use, responsibly and sustainably.
Next Steps
By helping one cat at a time and one dog at a time, we are not only able to change this animal's life, but we are also able to prevent the pain and suffering of generations of unwanted kittens and puppies.
The legacy of a gift in will is that homeless street animals in Cambodia are a memory of the past and that every cat and every dog in the Kingdom lives an adequate life in health, safety, and happiness.
Our team understands that thinking about a time when we're not around anymore may feel uneasy or scary. As a first step, you could talk to Andrea non-commital to find out more: [email protected]
With your gift in will, you help to break the cycle of suffering street animals in Cambodia. On behalf of all the cats and dogs that don't have to suffer and live in pain, we THANK YOU from the bottom of our hearts! Every gift changes precious animal lives.
Disclaimer: Animal Rescue Cambodia cannot provide financial or legal advice. Please consult your estate advisor before making any decisions.