ចុចត្រង់នេះដើម្បីអានអត្ថបទជាភាសាខ្មែរ។.
Meet our heroes! Lara Hofmann and Patrick Specht are two animal-loving, adorable and charismatic individuals, who dedicate their spare time, energy, knowledge, and skills to rescuing homeless and neglected animals in Phnom Penh (and beyond).
We hope that this story will encourage and motivate many of those wondering how they too can start helping homeless animals. If you have no clue where, when, what, or how to start we may have an idea or two. Well, it all begins with love and the willingness to help
Helping Animals in Cambodia & Around the World
Lara's and Patrick's Cambodian adventures started in 2016 when they first arrived in the Kingdom of Wonders to work. Although they returned to Germany in 2019, their impact remains.
Lara is a trained veterinary doctor/surgeon with many years of experience in this sector. She pursued a vet's career based on her great love for the animals, nature, and, certainly, because of her enormous compassionate and kind heart. While having a full-time job at the VSL Clinic, Lara also once a week attended to ARC's furry patients (desexing/spaying, examination, surgeries, vaccinations, and so on).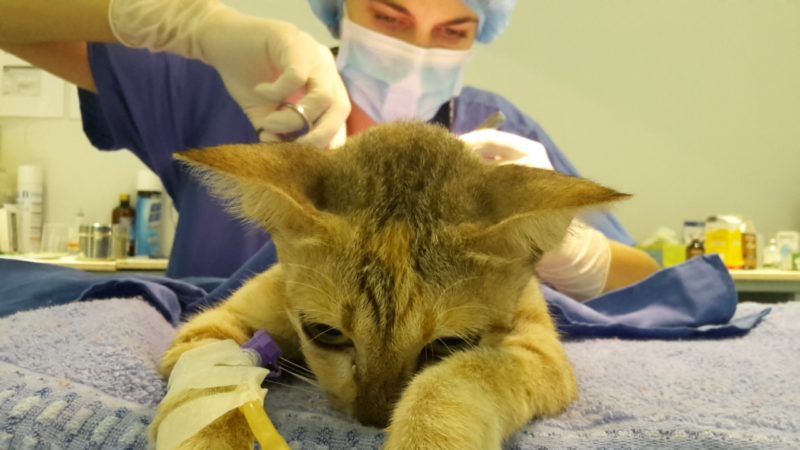 Patrick's main job in the Kingdom was unrelated to the animal rescue as such, but his passion has always been for animals! Unlike Lara, Patrick has no special medical background or education. In fact, he is a Hydro-Engineering.
However, when he met Lara, he became an enthusiastic animal rescuer/volunteer. They've become a great team and couple, dedicating their lives to animal rescue and animal welfare.
Lara begins to tell their story…"When we arrived in Cambodia, we were stunned to see a country so magnificent and beautiful. At the same time, it was bursting with helpless and neglected animals, many of which would die in the street every day, right in front of everyone's eyes. We didn't give it a second thought – those animals needed our help and we definitely could do something to ease their sufferings and give them a chance for a new and better life."
In Germany, where they both come from, one can bring a homeless animal to a shelter. In Cambodia, however, the situation is different. The shelters are very few and overcrowded. And it is hard to accommodate all of the rescues, especially, for a longer period of time.
"If you don't do something yourself, nobody will. We can't just leave an injured or abused cat or dog to die in the middle of busy street. We simply can't. How can we pretend we don't see another being in pain and suffering?" the couple summarizes.
How to Change the World, Despite…
Despite Patrick's severe allergy to animal hair/fur, which he had developed long before coming into contact with strays in Cambodia, his desire to help the neglected street furries in the Kingdom prevailed. Despite all the nasty allergy symptoms, he soon immersed himself in rescue activism and started helping and caring for the animals also on his own.
"Generally, changing the world is simply too much for only one or a group of several people. That's why a lot of us just give up and say: 'What will it change if I collect this piece of garbage or feed this one cat in my street?' Patrick used to say "The trick is to just start. Some people might follow your example, and, all of a sudden, this particular cat will always have food or a roof over its head. That is why we love to help ARC – Tina started something very amazing and truly important!"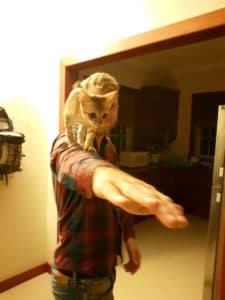 Our heroes are not only focused on cats and dogs. There is an impressive list of little and big success stories related to other smaller species, such as guinea pigs, rabbits, turtles, and many more!
Hedgehogs, Cats, Dogs, and More…
Back in Germany, Lara was actively involved in hedgehog rescue. Why hedgehogs? Apparently, these little thorny creatures are threatened by urbanization. The constantly expanding cities rob them of their natural habitat /environment, which is their home. Often, hedgehogs get hit by cars or stuck in various places. People used to bring hurt or baby hedgehogs to Lara who bottle-fed and nursed them for weeks, even months, before they could be released back into the wild or placed in special rescue centers.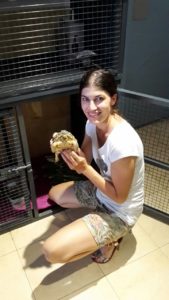 However, it is important to mention that hedgehogs are not really fit for living with humans in apartments or houses. They are, after all, wild animals, and it is advisable not to buy them from pet-shops since they really suffer in captivity (as well as may carry various diseases).
The word about Patrick's and Lara's activity in Phnom Penh spread fast in their neighborhood and in other communities. Soon, they were overwhelmed with tons of requests from people asking to accept, examine/treat, care for and nurture, find a home for, foster or simply look after this or that animal picked up by concerned citizens.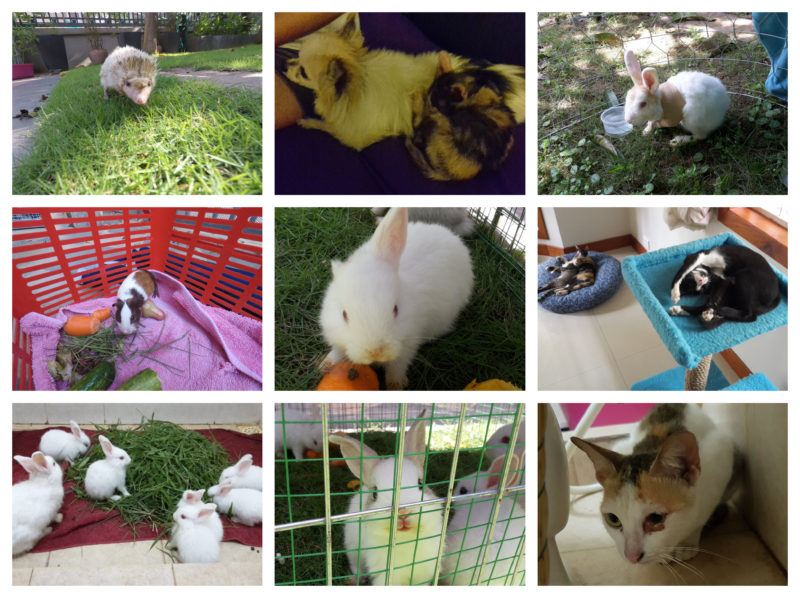 "Knowing that there is a vet's house across the street makes lots of people think that they can always bring it to us, and we must accept it." – Lara jokes. "Which is, of course, impossible. There are simply too many animals in need, and we are just two ordinary people with limited means and resources and no external funding or sponsorship to rely on."
Normally, rescued animals stay in a separate (smaller) house in their compound, where they are temporarily kept and quarantined before being re-homed or sent for adoption.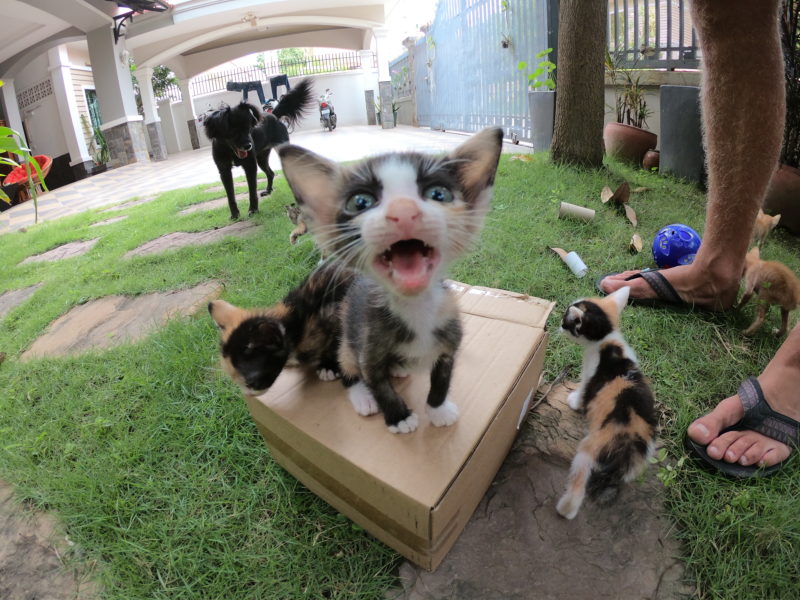 Moreover, the couple has four of their own pets – a doggy named Luzi, rescued from Poland during a severe snowy winter, and three Cambodian street kitties (Lilly, Josephine, and Tigger) that came to Lara as tiny bundles.
"It is much easier to do things together and have each other's back and support. Even the smallest basic tasks like feeding, cleaning, walking the dogs, or more complicated ones such as medical interventions, assisting during various procedures, carrying heavy boxes are doable when you work together as a team,"– says Lara. "I might have the necessary skills and the possibility to provide medical treatment. But I would not be able to achieve that much and rescue so many strays without Patrick being there, supporting me all the way!"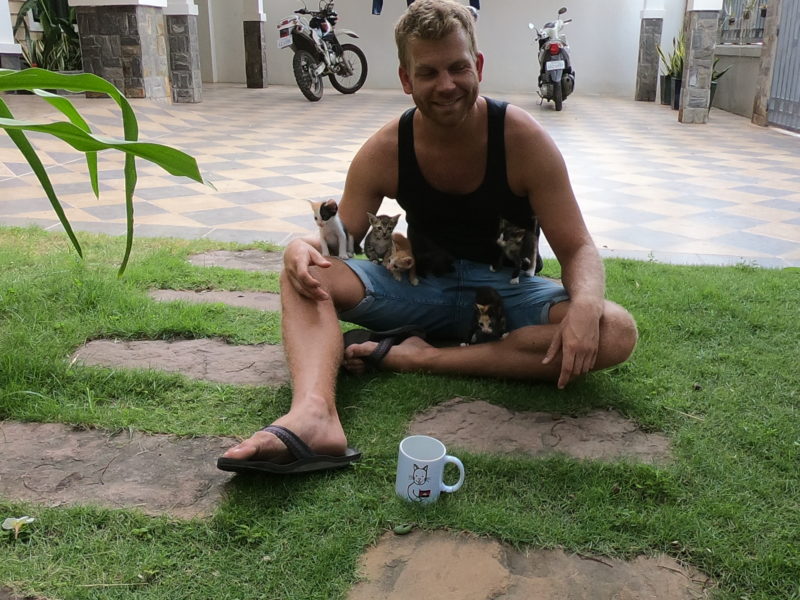 "Besides, it is not hard to spot an injured animal while driving or riding in the city. We always make a quick stop to check on the animal we see. And, of course, taking a timely decision and helping the ones in need becomes noticeably stress-free and faster when you are not alone" – Patrick adds.
In a country, where so many people live in poverty and face daily struggles to survive and provide basics for their families (especially, those with little kids) the problem of stray animals seems less important or secondary. And fairly so. Hence is the lack of funding, community involvement, trained human resources, and low public interest in these issues.
That is why, what Lara and Patrick do on a smaller scale and what ARC does in cooperation with other players and partners in this area, is very important. If more locals and foreigners living in Cambodia (expats) give them/us a helping hand and show support in whatever way they can, there will be considerably less unhealthy, injured, abused, and neglected animals out in the streets.
Lara's & Patrick's Tips
When picking up an animal from the street, do not rush immediately bringing it into your house or apartment. Keep it in a separate or isolated area for a while. And, first of all, take to a vet to examine and exclude any life-threatening/lethal diseases, to de-worm and spay/neuter, as a priority.

If you keep a rescued animal for too long (over 4-5 months), it will become strongly attached to you and see you as their family. Try to re-home your rescues while they are still babies, or consider keeping them forever. It is much easier to find a new owner for a small kitten/puppy rather than an adult animal.

Once you have taken a rescue in, it is entirely your responsibility what will happen to it next. Organizations and individual rescuers are usually so overloaded with their own ongoing projects and activities that, most likely, will have neither time, nor space (or finances) to admit your animal or keep it, even temporarily.

There are not many people who would readily take over an abandoned by their previous owner and fully grown-up dog or a cat. So, keep this in mind if you plan to leave the country for good and think ahead. Any animal, be it big or small, goes through a lot of trauma and stress when is dumped by its owner, even though none of them can voice it. Not to mention, how much a pet suffers when is kicked out of the house where it had spent months or years. Your pet's life depends only on you – your daily decisions, choices, and deeds.